5 FREE FIRST TIME SIGN UP WORKOUT CLASSES IN NYC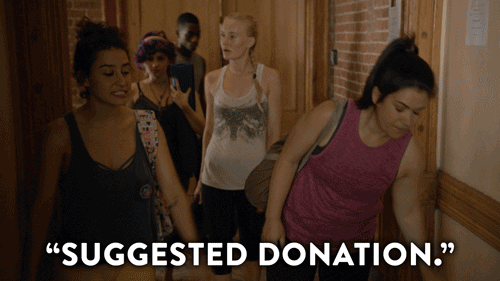 Let's face it. It's the holiday season, which means you are two things...broke and fat. Major fitness classes like Soul Cycle now charge $20 for first time sign ups, and we can think of a lot of other things we would rather spend that $$ on (HINT: food & booze).
If you are as indecisive as us, you have a hard time committing to something. Crossfit South Brooklyn offers a free introductory class every Sunday at 2:15pm (SCORE)!
Sign up here: https://crossfitsouthbrooklyn.com
Located a PATH train away from downtown Manhattan, Hoboken CylcleBar on 720 Monroe St. offers a first time rider free session. Opened by Bill Prior and Alex Klemmer in 2001, this indoor cycling class is described as "great instructors, great music, and a great environment" ... we can get on board (or bike) with that!
Sign up here: https://hoboken.cyclebar.com
3. RISE BY WE
Apparently, WeWork isn't just for shared co-working spaces anymore. This $20 billion dollar business has expanded its talents to fitness with Rise by We. Rise is WeWork's "ultimate wellness club, using social fitness to elevate mind, body and spirit" ...okay, okay, we're totally into it. They are offering a FREE WEEK to test it out. They also offer group sessions or private sessions of cardio, yoga and spa treatments.
Sign up here: https://www.risebywe.com/pricing/
For all the yogis out there! YogaWorks is offering first timers a free week. With locations in Soho, the Upper East Side, Brooklyn Heights, Westside and Westchester, this studio makes it easy to get in touch with your soul and forget the stress no matter where you work or live.
Sign up here: https://www.yogaworks.com/checkout/new-student/
Sign up for a free WEEK for Pure Barre. With locations all over the country, you are bound to find a location that works for you. Hour long classes focus on low-impact techniques that strengthen your body.
Sign up here: www.purebarre.com/ltb/freeweek/
You're welcome.
#fitness #free #workout #freeworkout #yoga #crossfit #brooklyn #NYCruns #cardio