2017 MLB WILDCARD PREVIEW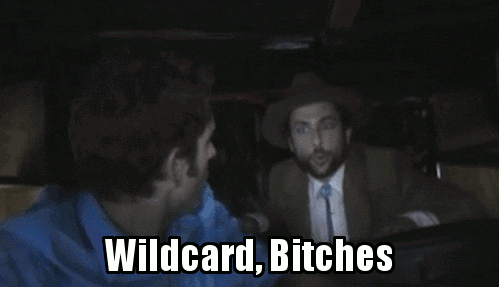 It's finally October which means one thing to me, playoff baseball! As the MLB regular season has come to a close, most playoff teams have already punched their ticket. That is except for the Wildcard teams. A "Wildcard" is the term used to describe best teams that did not win their respective divisions in the regular season. In baseball's current structure, the two best Wildcard teams in their respective leagues (American and National) play a one-game playoff game to determine who will advance to the next round. Seems simple enough. BUT there has been a lot of controversy over this new format over the last 5 years.
In 2012, the MLB implemented a rule changing the Wildcard to reflect its current format. Prior to 2012, the Wildcard was awarded to only the best non-division winning team. This team would then play the #1 seed in a best of five game series. Many fans have argued that the new setup is unfair to the top seeded Wildcard because they could easily get knocked out in one game by a team with a worse record. I view the new format as an opportunity for more teams to receive a fighting chance to prove their worth, making the end of the regular season more fun to watch. Either way, to truly be a champion you have to beat EVERY team in your way! Let's see what is in store for the MLB's first two playoff games in 2017:
American League Wildcard: Minnesota Twins at New York Yankees (Tuesday 10/3 @ 8:00PM ESPN): The Yankees have been one of the most explosive offenses in the Majors in 2017 (2nd most runs scored) thanks to career seasons from youngsters Aaron Judge (top MVP Candidate, rookie record for HR), Gary Sanchez and Didi Gregorius. While the sneaky Twins are trying to rewrite history, becoming the first team in MLB history to lose 100 games and make the playoffs the next year. Credit that to their exciting prospects like Byron Buxton and Miguel Sano with a splash of seasoned vets like Brian Dozier and Joe Mauer. What separates these two elite offensive teams is their pitching. Luis Severino of the NYY had a career season in 2017 and will finish in the top 3 of the AL Cy Young race. Sonny Gray was a strong addition to the rotation at the trade deadline, CC Sabathia had a great comeback season and Masahiro Tanaka really starting heating up at end of the year (15Ks in his last start). Their bullpen has been great as advertised (3rd in ERA, 1ST in opponent BA) but Dellin Betances and Aroldis Chapman have been unpredictable at the end of games. The Twins pitching has been led by journeyman Ervin Santana and young phenom Jose Berrios, but the rest of the team has been abysmal on the mound. The Twinkies do have an incredible defense behind them that makes life easier on their pitching.
Prediction: If the Yankees decide to start either Gray, Tanaka or Sabathia instead of Severino, manager Joe Girardi will only expect five innings from whoever he chooses. Then he will micro-manage his elite bullpen for the remainder of the game. They should have confidence that their bats will destroy the weak pitching of the Twins. I believe the Bronx Bombers shouldn't waste their best SP on a team they should handily beat in their home stadium. They should save Severino to pitch two times in the next round. But, Girardi will most likely call on his ace, not taking any chances. In recent history, the Yankees absolutely own the Twins in the playoffs; having beaten them in four straight playoff series dating back to 2002! If I were Twins manager Paul Molitor, I would think outside the box to try and fool the Yanks. Start the unpredictable but flashy Berrios instead of Santana and hope for a career-defining performance. But it looks like he is going with the more experienced Ervin Santana. Do not be surprised if the Twins make this game exciting, as they can easily match the Yankees offensive production. But the Yankees pitching will propel them into the next round to play the dangerous Cleveland Indians. If they click on all cylinders, look out for the Yanks to make a big run at the title, a team I think that strongly resembles the 2015 MLB Champion Kansas City Royals. SCORE: NYY 7 MIN 2
National League Wildcard: Colorado Rockies at Arizona Diamondbacks (Wednesday 10/4 @ 8:00PM TBS): Both of these squads have made a major turnaround from their 2016 campaigns, powered by juggernaut offensive attacks. The 'D-Backs' and 'Rox' have gone from losing teams in 2016 to playoff darlings in 2017. The most dramatic turnaround being the Snakes (69 wins to 92 wins), who received fantastic starting pitching all season. Zack Greinke and Robbie Ray have both been masterful and will both receive Cy Young votes this year for their all-star campaigns. The middle of this order is bolstered with talent, with perennial MVP Candidate Paul Goldschmidt (probably the best all-around player in the MLB) and All-Stars JD Martinez and Jake Lamb stepping in the box. AJ Pollock and David Peralta are also dangerous as the team's top of the order sparkplugs. Next we have the Rockies, who match up greatly on offense with the D-Backs. But the Rox are very inconsistent in the pitching department. Since the Colorado Rockies franchise first came into existence, they have struggled to sign/retain elite pitching. High-altitude Coors Field is widely known as a hitter's paradise, ruining pitching careers. On the other side, the Rockies have two absolute studs in Nolan Arenado and Charlie Blackmon, who are both serious contenders against Goldschmidt for the MVP. Underrated talent like DJ Lemahieu, Gerardo Parra and Mark Reynolds round out this scary lineup. To address the team's franchise-long pitching woes, the Rockies have made an attempt at drafting promising young arms. Their rotation is riddled with inexperienced, yet talented, youthful arms led by Jon Gray and an arsenal of rookies like Kyle Freeland, Tyler Anderson and German Marquez. They also beefed up their bullpen in the offseason, most noteworthy being possible 'Comeback POY' in closer Greg Holland.
Prediction: This year features an all NL West Wildcard. The Diamondbacks and Rockies are all too familiar with one another. This matchup is very hard to predict because they have already played each other 19 times (Arizona 11 wins, Colorado 8 wins) in 2017! I think experience will take center stage and Arizona wins a tight ballgame against their long-time foe. The pitching matchup greatly favors the Snakes with their ace Greinke (on full rest and outfitted playoff experience under his belt) facing off against an unexperienced Rockies starter.
Greinke is smart enough to pick his battles with Nolan and Chuck Nazty to avoid making a huge mistake. Colorado doesn't have enough pitching depth to keep the D-Backs' power bats at bay. The Diamondbacks also boast the second best home record in the whole MLB, with the Wildcard game being held in Phoenix. SCORE: ARI 5 COL 3